Vlad came to visit last week, and Vlad wanted to eat.  Seattle has much to offer in this regard.  Maxing out the visitation rights, I took a 4-day vacation from my usual nutritional pattern to sucker-punch Vlad's taste buds into another dimension.
Here's a recap, in chronological order, of how Vlad and I obliterated what is normally a pretty healthy diet, with some other great places mixed in that we didn't have time to sample.  Consider it a list of good places to eat badly.
Friday
1. Pike Place Chowder: the best chowder in Seattle, and I think better than anything in San Francisco  as well (and I've eaten many a bowl in SF).  After picking up Vlad from the airport Friday morning, Vlad had the classic in a bread bowl, and I had a sampler.
2. Pure Food Fish Market: the best hot-smoked Salmon in Seattle, and I think you'd be hard pressed to find better anywhere.  Vlad and I each just had a small sample, but boy was it gooooooood!  Vlad later bought a pound of it to take back to Detroit.  At $27/lb., it's an investment, but I think worth the splurge.
3. Oyster Happy Hours at Elliot's Oyster House and The Brooklyn: Elliot's has a beat-the-clock-style happy hour, starting at just $0.75/oyster at 3pm and going up $0.50 every hour.  The Brooklyn just has a steady price of $1.50/oyster from 3-6pm.  If you're an oyster fan, these oyster happy hours are the way to go.  Vlad and I each had 2 dozen (12 at each location).  This was a first for both of us – neither of us had ever had 24 oysters before in a single outing.  And at The Brooklyn we also enjoyed some Banh Mi Sliders and Crab Tots — the Crab Tots we particularly good.  Flying Fish also has the best deal on oysters at $0.50/oyster from 4-6pm, but the happy hour is seasonal and doesn't start this year until October 29.
4. Chicken Wings from Noc Noc: if you're a Seattle native, you might balk at this, but these dry, spicy, cajun-style wings are unexpectedly delicious.  Don't believe me?  Try for yourself — your wallet won't blink at $6 for a half-dozen.  But beware — these are hot.  Vlad and I each ate 6.
5. Seattle-style Hot Dogs: an all-beef hot dog, polish sausage, or hot link with cream cheese schmeared on the bun wearing a crown of grilled onions is one of the most wonderful culinary paradoxes I've ever had the privilege to encounter.  Food carts abound on Friday and Saturday nights in all of Seattle's popular bar districts selling these magnificent juxtapositions of salty and creamy, hot and cold, topped with the unique wonder of grilled onions.  They have a veggie-dog version too — I had one without the cream cheese, and while still tasty, it is not in the same league.  Vlad and I each had one on Friday night and another on Saturday night.  Not surprisingly, this was Vlad's first Seattle-dog experience.  And then, I may or may not have snuck in one extra hot link on Saturday night…
Saturday
6. Lunch Buffet at Tandoori Hut: not by any means great — I've had better Indian food in other places in Seattle — but at $7.95, the lunch buffet is a killer deal, and the location is spot on for Belltown residents.  Vlad and I did partake as our Saturday brunch.
7. Sushi at Umi Sake House: it would be impossible to definitively pick one best sushi spot in Seattle — there are so many.  Vlad and I chose Umi primarily because we didn't want to wait in line and they have a truly great happy hour.  It was a veritable feast including mixed nigiri, ahi poke salad, spicy tuna chirashi, (grass-fed) beef spare ribs, king crab tower, miso-marinated black cod (always a winner), sockeye sashimi, and white king salmon sashimi.  And there were some firsts thrown in there for Vlad, like the black cod and white salmon.  But truth be told, I would have preferred to take Vlad to Shiro's for omakase and sit right in front of Shiro himself, but it did not appear he was working that day, and there was a long line out front, so it wasn't clear we'd get a seat at all, much less at the bar.  My other top sushi spot is Nishino.  For me, it's a dead heat between Shiro's and Nishino: Shiro's for the traditional, no avocado, no cream cheese, sit at the bar, eat the shrimp head, omakase experience; Nishino for an overall fantastic dining experience with extremely fresh fish, classy atmosphere, and top-notch service (and they also have a great omakase option, by the way).  Umi comes in third.  But, the list for good sushi joints in Seattle goes on and on.
8. Buffalo Wings from C.S. Finnegan's: this was my first time having anything from there; the hot wings we indeed pretty good.  Especially for Seattle – we have a dearth of good, old-fashioned buffalo wings.  Vlad and I split an order.
Sunday
9. Pho at Than Brothers: the perfect cure for a rainy day, a hangover, or both, and Seattle has many wonderful choices.  Accordingly, we went to pho on Sunday morning; I chose Than Bros because it's my overall favorite for broth flavor, it's the only thing they do (meaning no other Vietnamese dishes to distract them from making awesome pho), and they give free cream puffs.  We each had a small bowl.  This was Vlad's first pho.
10. Banh Mi at Pho Cyclo: I like Banh Mi, but I'm not an expert on where to go in Seattle.  My guess is there are a bunch of places in International District that are remarkable.  We went to Pho Cyclo because it was close.  But it was good, and the pho is good there too.  This was Vlad's first real Banh Mi (the sliders at The Brooklyn were just in-the-style-of Banh Mi).
11. Kimchi Fried Rice with Spam at Marination Station: the brick-and-mortar location of the popular Korean/Hawaiian fusion food truck (Marination Mobile) never disappoints.  You need to explicitly ask for the dish with spam because it's not officially on the menu, but they will oblige.  We indulged in this unique blend prior to my bowling league game where Vlad was our ringer.  (That's right — I'm in a bowling league.)  This was another first for Vlad (the food surely, and I would guess the bowling league as well).
12. PBR in a Bottle at Cha Cha: after bowling, a couple of members from my team went to Cha Cha with the opposing team.  It's a cool spot across the board, but the pièce de résistance is the PBR in a bottle.  This is how we keep it classy on Capitol Hill, and Vlad and I each enjoyed a couple.
13. Fish and Chips at Pike Street Fish Fry: undoubtedly the best fish and chips in the city.  They were out of the halibut, so we settled for cod.  The Harissa sauce is my favorite.
Monday
14.  Chicken Liver Terrine, Broiled Eggs with Ham and Gruyère, and Freshly Squeezed Orange Juice at Le Pichet: this place always hits the spot, both on food and atmosphere.  I'm not an expert on French cuisine, but it's got to be one of the better places in Seattle, especially with such a high level of accessibility (no reservation needed!).  They also serve a fantastic roasted chicken for dinner.  It's prepared simply, yet deliciously.  It takes an hour to make, but it's well worth the wait.
15. Shellstock Bowl at Seastar: a bit on the pricey side, but justified by quality of food and service.  Vlad and I split the Shellstock Bowl, a medley of seafood served on ice: Dungeness crab legs, scallop ceviche with mango-kiwi relish, grilled white prawns, freshly shucked oysters, and Alaskan king crab legs.
16. Mezcal at Rob Roy: this place has been consistently one of my favorite bars in Seattle, due to the overall combination of atmosphere, liquor selection, bartender quality, proximity, and price.  Vlad is a fan of Tequila, but not of Scotch, so our server recommended Mezcal as a gateway.  This was a first for both me and Vlad.  How I haven't come across this before as a fan of Tequila and Scotch is beyond me.
17. Spicy Nabeyaki Udon and Kushiyaki House Set at Kushibar: I typically order the spicy nabeyaki with soft tofu instead of chicken, and it reminds me of a Korean soft-tofu kimchi soup, but with udon.  It's served boiling, as it should be, and is always a winner.  Beware — it's pretty spicy.  And they have all sorts of other goodies, like skewered meats and veggies cooked on a grill.  Vlad and I split the soup and a sampler of skewers.
Missed Opportunities
18. Cuban Sandwiches at Paseo: perhaps the perfect sandwich, I am most disappointed about having missed this place.  Cause: they are closed on Sundays and Mondays, and clearly we didn't really plan that one out.  Tip: call ahead because they often run out of sandwiches.
19. Tom Douglas Restaurants: our local celebrity chef has a number of outstanding restaurants, each with its own identity.  Some of my favorite dishes: Palace Burger Royale at Palace Kitchen, Roasted Seasonal Mushroom and Truffle Cheese Pizza at Serious Pie, and the Goat in a Tagine at Lola (though it appears this might be off the menu now).
20. Spicy Chicken at Ezell's Famous Chicken: publicly proclaimed by Oprah as "the best chicken [she's] ever had in [her] life," the spicy chicken recipe is made for Goldilocks.  And the chicken is accompanied by the types of tasty sides and desserts you would expect from a fried chicken venue, like potato salad, baked beans, and sweet potato pie.
21. Salumi Artisan Cured Meats: operated by Armandino Batali, father of Iron Chef Mario Batali, Salumi produces some serious cured meats.  But the hours are severely restricted: Tuesday-Friday 11am-3:30/4pm.
Back to Reality
But this was just a brief, albeit extreme and intense, departure from my desired dietary habits.  And on Tuesday, I hopped right back on the wagon having a banana for breakfast and a comically large salad for lunch (pre-bowl and post-bowl pics shown below).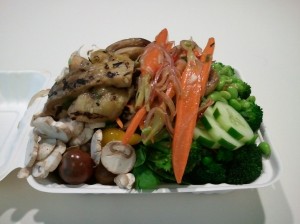 Pre-bowl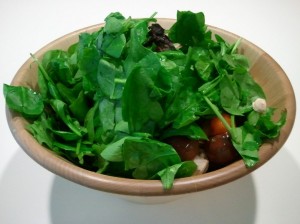 Post-bowl