Been a while since I've posted a recipe, so here's one of my favorites.  It's warm, colorful, tasty, and thoroughly satisfying.
Ingredients
Your favorite bowl


Cooked healthy grain (I used half TruRoots Sprouted Rice & Quinoa Blend and half farro)
1 Sweet potato
2 or 3 Okinawan sweet potatoes (it's purple, adds a cool color, and has a great flavor)
1 red onion
Pickled beets
Garbanzo beans (I use canned for expediency)
1 haas avocado
1 lemon
1 bunch of cilantro
Olive oil
Salt / pepper (if you want)
Note: this is enough to make 2 or 3 grain bowls.  I usually have leftovers and mix and match them to invent new creations.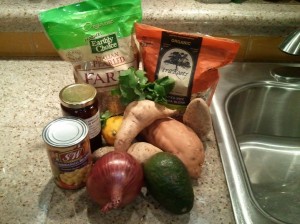 Preparation
Cook the grain (I just use a rice cooker).
Cube the sweet potato (regular and Okinawan), slice the onion, and add a little olive oil and salt / pepper to taste.  Then bake on 350 for about 30 minutes or until the potato is fork tender and the onions have browned.

Drain and rinse garbanzo beans.
Cube the avocado.
Cut the lemon in half.
Chop the cilantro.
Assembly
Put grain in first.

Top with the potatoes and onions.

Add the garbanzo beans and some pickled beets.

Finish with avocado, cilantro, and some lemon juice (for brightness and to prevent the avocado from oxidizing).

Enjoy!!